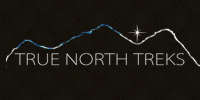 "True North Treks takes young adults with cancer on short treks in nature to focus on learning mindful awareness practices, and connecting with other young adult survivors."
Location: All over the country.
Duration: One (1) week.
Age: 18-39 years old
Cost: FREE to cancer survivors!
With True North Treks your travel expense is included but there is a "pay it forward" component. Once approved the camp will walk you through their program.
*If you are from MICHIGAN there may be a stipend available which is equivalent to the travel cost. Once approved for your trek email us for details.
Description: True North Treks is a short-term wilderness experience, during which cancer warriors learn outdoor skills as well as mindfulness meditation. The treks take place all over the United States. Throughout the experience there is a lot of laughter and fun as well as time to learn new skills, explore a beautiful place, and provide a physically and emotionally challenge in a safe environment.
Benefit: True North Treks gives young adult cancer survivors the chance to reconnect with nature, reunite with themselves, and to interact with peers who have experienced a cancer diagnosis and treatment as young adults.
Registration Information
For more information and to register for this experience please visit this website:
True North Treks